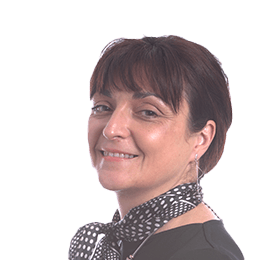 Lisa Smith
Barrister
Lisa joined Thorneycroft Solicitors in August 2016 having spent 17 years in a leading law firm in Manchester where she specialised in high value road traffic accidents, fatal accidents and employers liability claims including brain injuries, spinal injuries, and severe orthopaedic injuries. Lisa is a Barrister and was called to the Bar in 1999. She is a member of the Bar Council of England and Wales and the Honourable Society of the Inner Temple. Lisa's ethos in relation to her work is that the client always comes first and is highly regarded as tenacious and dedicated in her work. She has considerable interest in those injured in motorcycle accidents and has attended many motorcycle events to promote awareness to those who have been injured.
Outside of work Lisa enjoys skiing and horse riding, supporting Manchester City, spending time with her family, and walking her beloved Jack Russell, Shnibes!

I worked with Lisa on a very tricky amputation case involving emotional issues and a 7 figure value. She is highly professional, a great guide, hard working and successful for her clients.
Lisa is a superb Barrister who excels in putting clients at ease, even in the most complex and difficult of cases. She is well organised, and dogged in her approach with opponent solicitors. If I was involved in an accident I would want Lisa in my corner!
- Louise Green, Barrister
It is a pleasure to work with Lisa Smith, a lawyer who easily grasps the issues that create difficulties for case managers and works collaboratively to achieve the best outcome for our mutual clients. Lisa deals with her clients with dignity, humour and great understanding. It is apparent that she understands the process thoroughly and genuinely cares about our clients. She sees that this is about quality of life, not just a 'claim'.
- Case Manager – Liz Haunch – Bridge Case Management

Case Studies
AvB was a case involving a motorcyclist that was involved in a biking accident. As a result of the motorbike accident, 'A' suffered severe injuries and as a consequence, they had their leg amputated above the knee.
Settlement Figure: £2.7 million
Handled by: Lisa Smith – Barrister
Type of injury: Amputation
---
CvD was a case involving a motorcyclist who was injured by a third party. 'C' was overtaking when the third party turned right, across 'C's' path. As a result, 'C' suffered a traumatic leg injury resulting in an amputation below the knee.
Settlement Figure: £1 million
Handled by: Lisa Smith – Barrister
Type of injury: Amputation
---
EvF was a case involving a passenger on a motorcycle. 'E' suffered severe leg injuries as a result of being involved in a motorcycle accident.
Settlement Figure: £270,000
Handled by: Lisa Smith – Barrister
Type of injury: Severe leg injuries