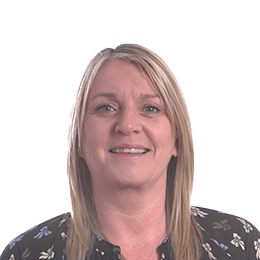 Kerry Burgoyne
Litigation Executive - Head of Dental Negligence
Kerry began working for a Personal Injury law firm in Macclesfield in 2004 where she progressed within the first year from PA to become a Litigation Executive specialising in personal injury road accident claims.
After 5 years Kerry joined a Wilmslow firm before joining Thorneycroft Solicitors, and her extensive experience has led her to specialise in the area of clinical negligence.
Out of work Kerry enjoys being with her family, watching movies and motorbike racing, and any remaining free time is spent road cycling.

Despite my initial scepticism of the no win, no fee arrangement I want to thank Kerry for her assurances and expertise in successfully resolving my dental negligence claim. I am happy to recommend Thorneycroft Solicitors.
Kerry was amazing from beginning to end.
I found Kerry very helpful, she always called back and explained everything very well.
Can I just say, Kerry from day one of my claim has been extremely professional and very caring and kept me updated all the time. I was very happy with the outcome of my claim and that's all thanks to Kerry
I am a dental expert witness have worked with Kerry Burgoyne of Thorneycroft solicitors over a number of years providing reports on dental negligence and dental personal injury. I have always found Kerry to be very professional, approachable, friendly & efficient. Her attention to detail is excellent and I would have no hesitation in recommending Kerry to any potential client.
Over the last few years I have received several clinical negligence instructions from Ms Kerry Burgoyne at Thorneycroft Solicitors regarding the standard of dental treatment received by her clients. The instructions have without exception been clear and comprehensive and any subsequent communications have been dealt with by her without delay and in a polite, friendly and professional manner.
- Dr Gary Simon, Dental Expert